UAE civil defence approved heaters
The outdoor heater is a heat generator for infrared that produce heat for a small or large patio, by radiation. It is mainly used for heating of outdoor environments, even those covered, but can also be used in indoor environments. The Patio Heater is known in particular with the names of the Patio heater (or outdoor heater ), pyramid heater, mushroom heater, etc. by The shape, the height and the length of this unit vary according to the model: it can be mushroom-shaped, pyramid and so on.Gas or electrical.
---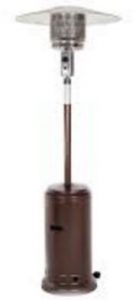 The famous mushroom patio heater is one scale patio, generally made of steel and coated with aluminum reflector. Its structure radiates the infrared heat produced by gas supply LPG cylinders. This type of radiation heater is the ideal solution for outside areas, open spaces or indoors that do not have interior rooms for smokers, as can be seen for example in outdoor areas of bars or restaurants. This patio heater has low power consumption thanks to gas cylinders butane or propane. This machine has a consumption of approximately 0.7 kg / h by heating and irradiating its heat on a surface of 20-25 m² and for this considered as the most economical solution. The outdoor heater is equipped with a valve which ensures the optimal combustion of the gas, of a burner, of a grid of stainless steel alloy to generate thermal efficiency of the fuel and eliminating the carbon monoxide that is produced during the combustion of the gas. This system ensures safety use even in outdoor environments; in fact, it is equipped with a safety system, ready switch off in the event of tilt and a sensor for the adjustment of the flame which ensures greater autonomy and versatility. The gas cylinder is located in the lower part of the patio heater.


The electric version has the shape equal to that of gas, but the difference lies in the fact that this is halogen, as it contains the halogen lamps that heat the environment.
The main advantage is that this device is more secure than the common gas stoves, both in the external and internal environments, because it is equipped with a safety device which, in the event of a rollover, is quick turns off the power. Moreover, this stove has the advantage of heating the outdoors, including those covered, guaranteeing greater comfort, especially in very cold days.