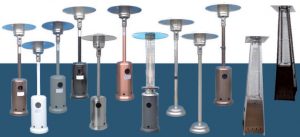 We highly focused on patio heater products providing the full range of patio heaters to Dubai and UAE market with excellent service.
We offer Both Electrical and GAS (LPG) Outdoor Heaters. Our Outdoor Patio heaters are consumed less gas with Efficiency and less pollution.
Our Outdoor heaters can provide good outdoor heating coverage and available in wide variety of colors and shapes.
And most importantly, We have Dubai Civil Defence approved heaters
We offer many  kinds of residential Air coolers – Outdoor Coolers and portable AC. all kinds of evaporative air coolers were created to cool little to big spaces but not whole houses. A mobile evaporative outdoor cooler is a remarkable cooling option when freedom is a variable. These Outdoor air coolers usually come with casters to make transferring your evaporative air cooler from space to space straightforward. Many versions, are lightweight and even less difficult to transport. Oftentimes, nevertheless, lightweight Industrial air coolers are better suited for private cooling system, functioning much like a private heater.
When determining among portable air conditioners, it's also wise to consider where you are installing it. Typically the most popular mobile AC versions were created to fit inside double-hung or vertical opening windows, however there are a number of choices.
Window AC installing a unit in a double-hung window, you will have to quantify the measurements within your window frame just, paying particular attention to the width. With these measurements in hand, try to find the minimal and maximum window width dimensions recorded in the air conditioner's specifications. Do not stress if the window AC does not stretch to fit your window frame precisely. All window ACs have setup kits, including flexible side drapes to seal any additional space left on each side of the window opening.
For step by step directions and an informational video on the best way to put in a window AC, take a look at our floor standing Air Conditioner Installation Guide.
In the event that you plan to set up one through your wall, first make sure that the unit you need can adapt such a setup and that you've got the right installation kit. Not all window ACs might be set up through a wall. Verify the specifications to find out in case your version has ths setup choice.
After that, make note of the measurements of the finished wall opening, which ought to be recorded in the owner's manual. Take advantage of these measurements when making your wall opening. If required, consult a professional when trying to install your window AC by means of a wall.
Dont let the lingering winter chill keep you from appreciating your outside space. One of our tall patio heaters will cut through the cool air and produce a warm and encouraging setting for you as well as your visitors. Our Patio Heaters allow it to be feasible that you relish your outdoor living space throughout the year. Love a cosmetic outside lamp available with either electrical and propane as the power source.
These patio heaters allow you to utilize your patio or deck even when the weather has a bit of chill in it.
Want a patio heater however do not have much space for one? Subsequently these wall mounted units could be an ideal fit for you. They mount on the side of your house and offer a heater to big region of your veranda.
Cooling misting fans are offered in sizes that range from 12″ to 48″ with all forms of mountings from base, wall, ceiling, floor or directly mounted to the operators machine.
Whole warehouses or rows of machines might be linked.
Cooling the workplace raises productivity and worker morale.
Fast Cool sells evaporative mist cooling fans for indoor and outdoor misting fan programs that offer residential, veranda and commercial mist cooling system. Fast Cool's indoor and outdoor misting fans and mist bands are quality products which will are an effective, efficient solution to keep big or little regions cool.
WARNING:
Not all patio heaters are constructed the same. Even though a rival's heater may look just like ours, odds are that they simply delivery 40,000 BTU's. You had need to let three of their heaters to be able to coincide with the same heat output signal that two of ours can deliver!
They may be constructed for the special occasions and rental business. Do not be fooled by cheap look alikes for house use. Should you have to heat up your space, you have a need for a patio heater rent from Castle Party Rental.
Why Pick Mist Masters Outdoor Cooling Systems?
We've got a business symbol choice available where you are able to buy the system and have your business logo put on it at the cooling centers.
Fair, Dependable, Experienced
we really been in the outdoor cooling company since 2011 and is famous for our expertise in this subject.
Misting lines can be found in various lengths using a high pressure nylon capable to resist up to 1200 psi. Cooling System stations are tent-established and come pre-assembled with mist lines and nozzles, together with the pump system.