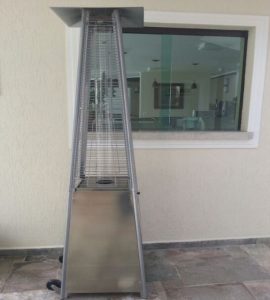 Material: Stainless steel 304
Color: stainless steel color
Type of gas: (propane, butane) LPG
Ignition: Piezo ignition or Electrical ignition
Safety device: flame protection, Tilt protection
total height: 2200mm
Base size : 490mm x 490mm
Weight : 26kgs
Quartz glass tube: 100mm x 1250mm
reflector size : 460mm x 460mm x 55mm
Packing Size: 1370mm x 770mm x 180mm
————————————————– ———————————————–
Features:
1. Using the op reflector for round heat radiation, start burning very fast within 2-3 minutes.
2. Fire heat adjustable can achieve up to 13KW, to meeting all your  heating needs.
3. Commercial grade with all safety sensors,  tilt protection sensor, safe and secure use.
4. good quality ignition system.
5. Electrical ignition,with AAA battery.
6. uses LPG Gas for clean and odorless no noise, high efficiency and environmental friendly.
7. suitable for villas patio, bars, pedestrian streets, hotels, restaurants.
8. also can be used for outdoor event heating, wedding, leisure venues.