Stay Warm in Outdoors with our Outdoor Patio Heaters Rental  service !

(Dubai, Abu Dhabi, Sharjah)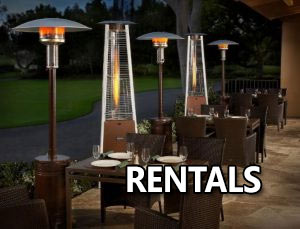 Whether we are camping, barbecuing or simply relaxing outside, it sometimes is difficult to stay warm. The easiest solution for everyone's comfort is outdoor heaters, and there are many different types of outdoor heaters. No matter what you need, there is a guaranteed solution for you with patio heater rental services! 
If you are entertaining guests outside, you should consider using an outdoor patio heater to make your guests comfortable. Since most outdoor heaters are similar in function, the crucial factor is the size of your heater. The size of an outdoor heater can range from smaller heaters, which can be placed on a table to larger free-standing heaters that can be placed along your patio. If space is an issue, the best outdoor heaters rental solution may be to use a wall-mounted heater. Using a wall-mounted heater frees up space and helps to keep everyone warm! 
Different Types of Outdoor Patio Heaters
 There are various types of fuel that can be used for your outdoor patio heater. Your location will often determine the best type of fuel to use for your outdoor heating needs. Electric heaters are very common as nearly every home and business has electrical power available. However, electric heaters may not provide enough power for your patio heating needs, especially if you need to heat a large outdoor area. 
If you need a lot of heat, a propane-powered heater is the next step up from electric heaters. Propane is convenient because the energy source can be supplied by a tank of liquid fuel. This makes propane a good candidate for remote locations where power may not be available, and a large portion of outdoor heaters rentals comes from heaters powered by propane. A downside of propane is that, unlike other methods of supplying heat, the fuel source needs to be monitored to ensure that it does not run out. Nobody likes to be surprised by the cold, and that's why we need a patio heater! Propane tanks come in a wide variety of sizes, from small tanks that can be carried, all the way up to larger ones that can be delivered on a truck. Whatever your needs are, there is definitely a way to make propane heat work for you! 
Some homes and businesses may have natural gas available, and this is a convenient option to use if it is available as it has the potential to generate a large amount of heat. However, this may not be an option because not all buildings have natural gas available. If natural gas is available, it may be the best choice for you when hiring outdoor heaters as it flows continuously and does not need to be refilled like propane. 
No matter what you need in terms of outdoor heat, Patioheater.ae will help with the best outdoor patio heaters rental solution that can meet your needs. Don't make your guests freeze outside in the cold; instead, give them the comfort they deserve! 
Call us now to book your rental